SHORELINE
2017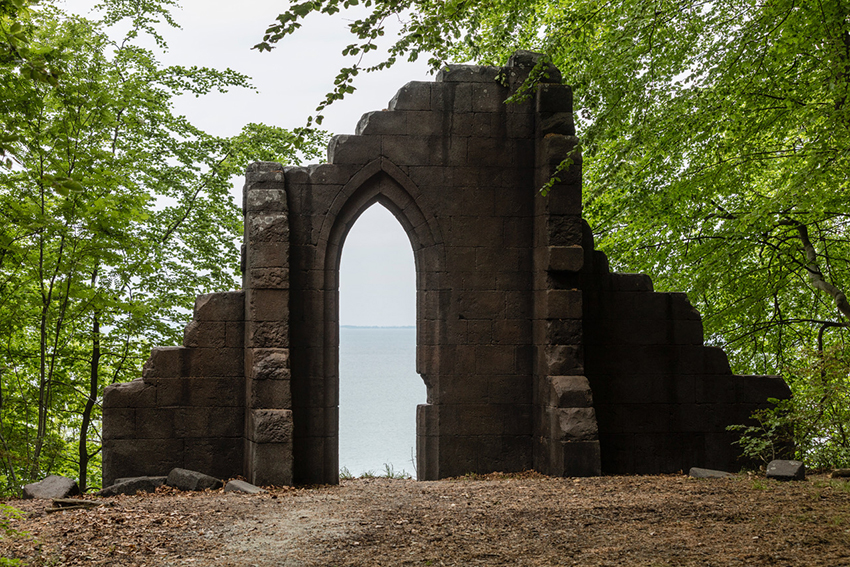 3 channel sound installation, concrete, paint, view
Duration: 10'16" min
The Garden, The End of Times, The Beginning of Times
ARoS Triennial
Århus, Denmark
Curated by: Marie Nipper
Comissioned by: ARoS Triennial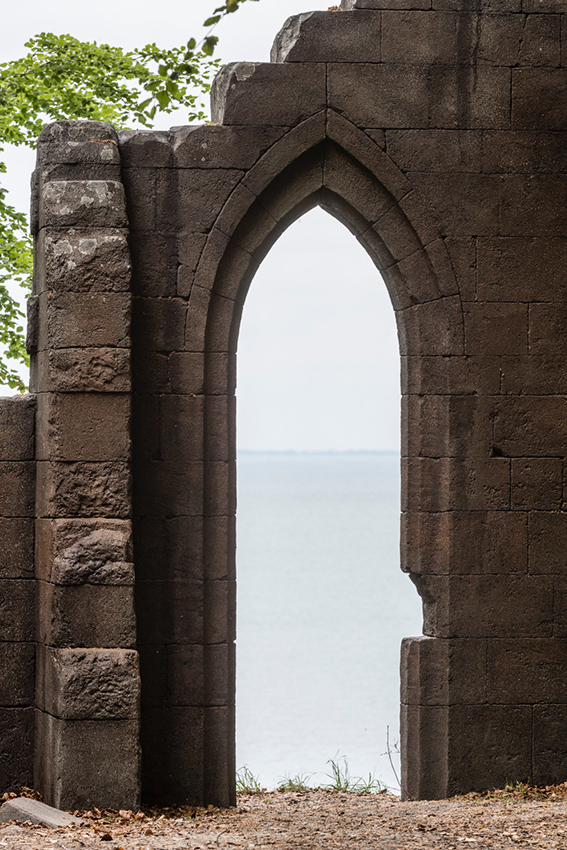 The triennial titled 'The Garden – End of Times, Beginning of Times' was divided in 3 successive parts, The Past, The Present and The Future. My work Shoreline was part of 'The Future' section and created specifically for a small clearing in a woodland overlooking the sea. Located furthest away of the main venue the piece was likely one of the last things a viewer would encounter on the exhibition tour I also wanted to refer back to the beginning.
The project started with view, I thought of the fluid sea and the escaping horizon as metaphors for the future, the stable ground as something that we take for granted, perhaps an indicative of the present. One can't see into the future without looking through the past, but the past is more often than not a construction as well, a lens that colors the view.
The constructed ruin, or folly, that framed the view was derived from a fragment of a Caspar David Friedrich painting, Klosterfriedhof im Schnee, 1817/1819, a painting destroyed during the Berlin air raids of 1945. Other works by Caspar David Friedrich were displayed in the Museum as part of the 'Past' part of the exhibition.
Grounded on the earth, gazing out to the shoreline, the viewer heard disembodied but present voices, overlapping and interweaving raising issues of togetherness, how nature's and our own communities are formed and at times divorced. The text was written in collaboration with the Palestinian poet Farah Chamma.
Text:
Farah Chamma
Hans Rosenström
Voices:
Alexander Barry
Vicky Long
Delilah Montagu
Hans Rosenström
Construction of the ruin:
Bo Baerendsen
Cello & Double Bass:
Rhian Porter
Photo Credit:
Anders Sune Berg
Shoreline has been kindly supported by:
Svenska kulturfonden
Oskar Öflunds Stiftelse
Finnish Cultural Institute in Denmark